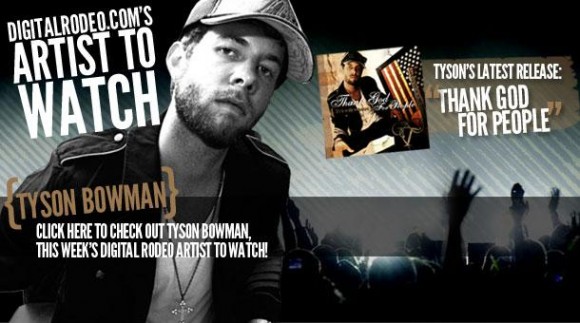 By Amanda Johnson
Although Tyson Bowman is currently a resident of Nashville, the up-coming musician's beginnings trace far north of Music City.
Citing musical greats such as Alan Jackson, Garth Brooks and James Taylor, the young Bowman paid his dues singing in the church choir in his hometown Erie, Pennsylvania.  During his journey through high school the budding musician expanded past country flavor and into rapping and beat boxing. He was even part of a hip-hop group which opened for the rap sensation, Ludacris.
After high school Tyson attended college in North East, PA, and Phoenix, Arizona. Upon graduation day in Arizona, Tyson knew where he really belonged and made the three-day trek from Arizona to Nashville, Tennessee.
Since arriving in Nashville, Tyson has worked with well-known writers such as Judy Rodman – known for co-penning the #1 hit "One Way Ticket (Because I Can)" and Roy August – co-writer of the chart-topper "Fancy Free". Tyson also founded The Grand New Opry to provide new singers, songwriters, and musicians a place to network in Nashville.